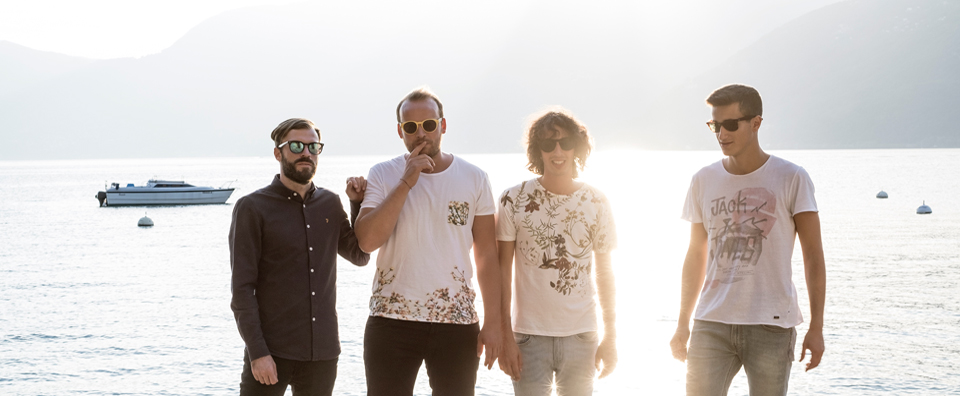 L'indie-rock, gli anni 00, i jeans strappati, le T-shirt, i rock club, Alex Kapranos, Jack White, Carl Barât e Pete Doherty seduti in un bar della provincia di Varese. "Life happens", questo il titolo del nuovo album dei WYNS, in uscita il 27 Marzo in tutti i digital stores su etichetta Bassa Fedeltà (The Shalalalas, Marvis, La distanza della Luna, ecc…), vi conduce in questo psichedelico ed ipnotico incontro, ricreando quell'atmosfera unica fatta di palchi, sudore e dancefloor.
Nati nel 2009, i WYNS pubblicano nel 2011 "A place like this", con il quale si fanno notare anche in Europa conla partecipazione al Bilborock di Bilbao e in Italia suonando in diversi locali. Ora la band torna con questo concept album prodotto da Martino Cuman ( Non voglio che Clara), registrato da Andrea Cajelli presso La Sauna Recording Studio e pubblicato dall'etichetta romana Bassa Fedeltà. Dieci canzoni che, come suggerisce il titolo, parlano di cose che accadono, a volte senza un ragionevole motivo, nella vita quotidiana. "Lazarus", è il singolo/video che anticipa l'album "Life happens" ed è uscito in tutti i digital stores il 30 Gennaio. Una ballata dal ritmo ossessivo che ci fa riflettere su quanto a volte lo stress prenda il sopravvento sulla passione, in una società frenetica in cui il concetto di tempo si è dilatato e non prevede errori o cambi improvvisi di direzione. Il video è stato girato da Oscar Turri.
ENG
Bassa Fedelta' and BlackPois Promotions are happy to announce the release of "Life Happens", the new album by snazzy indie rockers The Wyns, available on all digital stores from the 27th of March.
"Life Happens" while you're busy dancing away the night in a dodgy London club, Noughties music blaring from the speakers, every fibre of your teenage body focused on emulating the singer's moves, eventually forgetting who you are. "Life Happens", fast, things follow each other and it's hard to keep track when your mind is still in its twenties, sweating on a brit pop dancefloor.
The Wyns portray themselves in a concept album that confronts directly their younger selves, recognising that what has accompanied them growing up, and has never betrayed them, is music.
Their influences range from the first Franz Ferdinand's albums to the sauciest riffs blurted out by Jack White to the Kaiser Chief's power indie rock, and make their sound immediately recognisable for those who grew up with the same musical heroes.
Produced by Martino Cuman (Non Voglio Che Clara) and recorded by Andrea Cajelli at La Sauna recording studio, "Life Happens" is the follow up to The Wyns' 2011 debut, "A Place Like These", which they toured extensively throughout Italy and in Europe, playing prestigious festivals like Bilbao's Bilborock.
The band is now ready again to bring their nostalgic but stylish new record to International crowds.
The first single from "Life Happens", "Lazarus", received an exclusive première the 24th of January on online magazine SentireAscoltare, and is accompanied by a video by Oscar Turri. The dark, blues-y ballad, a reflection on the sometimes unbearable pace of everyday life, will be released on all digital stores on the 30th of January.
Take a trip down memory lane and get those dancing shoes out of the closet, life is happening again.