Denis The Night & The Panic Party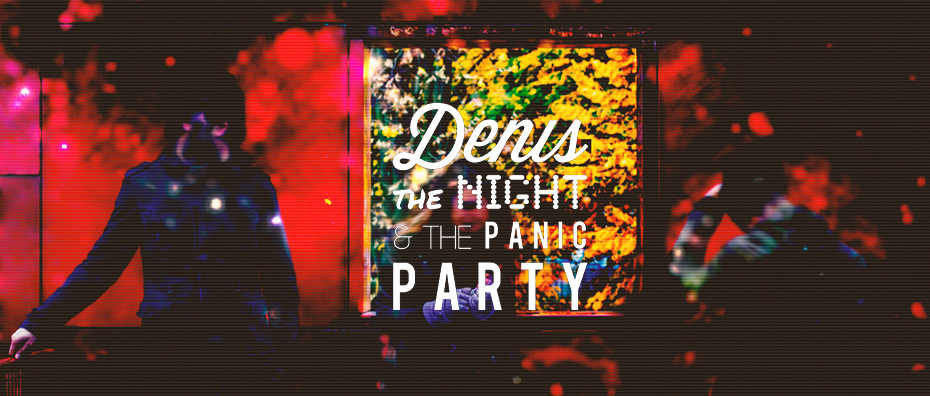 Power trio e collettivo nato tre anni fa da un sodalizio di amici, musicisti ed artisti visivi, i Denis The Night & The Panic Party nascono in viaggio fra Italia e Inghilterra da un' idea di Ono Nora Fiorani, Nicola Sbrozzi ed Alessandro Gobbi.
Psichedelia, shoegaze, pop noise ed electro, i Denis The Night & The Panic Party sono un progetto che va al di là di un album o delle canzoni, ed infatti creare colonne sonore adatte ad un rave e' in realta' piu nell'indole del gruppo, nato soprattutto come tana di libertà musicale ed artistica libera dal preconcetto di genere.
Artisti anticonformisti affini al loro spirito come Giulia Delprato, Eddie Preti, Rino Stefano Tagliafierro, Beatrice Pucci, Matteo Gaudenzi, Enzo Lauria e Karin El Taifiova hanno interpretato finora lo sguardo del collettivo, donandogli un' identità estetica e visuale. Con un paio di uscite anticipatorie come l'ep di remix "Hottrips", assieme ad un EP di primi brani in versione Lo-fi distribuito in giro per l'Europa in formato cassetta, la loro sonorità randagia ed eclettica ha conquistato da subito importanti palchi internazionali, come il Primavera Sound Festival, la BBC Introducing Live, il Liverpool Sound City, il MaMA Festival. L'album di debutto "Cosmic Youth", co-prodotto dal gruppo e Livio Magnini (Bluvertigo), è uscito alla fine dello scorso anno per la storica etichetta inglese Wall of Sound ed ha raggiunto fin da subito la posizione n.1 nella classifica di musica Elettronica iTunes Italia e SE Asia. Il remix del loro primo singolo Androgynous Love realizzato dal famoso DJ/producer francese, Étienne de Crécy è diventato virale in Francia entrando nella Spotify's Viral Top 50 France. Il Panic Party è sbarcato oltreocano questa primavera con il primo tour canadese della band, culminato con una loro doppia partecipazione nel cartellone del Canadian Music Week, e mentre il gruppo è già in studio per la scrittura del nuovo disco, la prossima tappa internazionale si accende con il Waves Vienna Festival a fine settembre.
LIVE SHOWS
London residences (UK) – The Water Rats, Nambucca, AlleyCat, Floripa, Garage, The Moustache Bar, Apples and Pears, Soho Radio, London One Radio
Liverpool UK) – Liverpool Sound City 2016 – Mailchimp Record Store
Manchester (UK) – Indie Music Week (KRAAK)
Reading (UK) – BBC INTRODUCING LIVE 2016( Purple Turtle)
Paris ( FR) – L'International , MaMa Festival 2016
Barcellona (SP) – Primavera Sound Festival 2015 (H&M Stage, Ray-Ban Stage, MACBA Day Pro Stage)
Canadian tour – Canadian Music Week 2017
Vienna (AUT) – Waves Festival 2017